商品描述
這滋潤的「曬後護理霜」配以五種純素和有機成分,為您的皮膚提供深度滋養減低皮膚老化的早現跡象,同時舒緩任何曬後皮膚疼痛和發紅。
獨特的瓊崖海棠油有助止痛,非洲乳木果脂恢復你皮膚的水份,荷荷巴油啟動你皮膚的自然修復。薄荷和尤加利的天然氣味,帶給你舒緩的感覺。  
適合所有皮膚類型,特別適合敏感皮膚。
不會引起粉刺,不會堵塞毛孔。

0%添加|無憂慮的「曬後護理霜」,沒有和水稀釋,而且完全不含對羥基苯甲酸酯、酒精、防腐劑、合成香水和合成有害化學物。

👍🏻 這「曬後護理霜」也很適合用作剃鬚(體毛)後護理, 以恢復水分, 減少瘙癢和有助皮膚修復!

用法:
曬後或需要時(如剃體毛後),塗抹在全身和面部。產品沒有和水稀釋,所以只需要塗一點點也能感覺其效果!

Made in EU.

Need to treat your skin after a long day in the sun?  Formulated with five vegan and organic ingredients, this balm provides your skin with deep replenishment, minimising early signs of aging, while soothing any painful sensations and redness. Exclusive Tamanu Oil provides pain relief, Shea Butter restores your skin's hydration while Jojoba Oil kick-starts your skin's natural repair process. With a natural smell of eucalyptus and peppermint you're left with a soothing feeling.

Suitable for all skin types, especially suitable for sensitive skin. Non-comedogenic (doesn't clog your pores).

HOW TO USE
Apply on your entire body and face after exposure to the sun or whenever you feel like giving your skin a treat. This aftersun balm is not diluted with water which is why you'll notice that you only need a little bit of cream to feel an effect! Great to know: this After Sun Balm also works great as an aftershave to restore moisture, reduce itchiness and support skin repair!

INGREDIENTS
Butyrospermum Parkii (Shea) Butter°, Simmondsia Chinensis (Jojoba) Seed Oil°, Calophyllum Inophyllum (Tamanu) Seed Oil°, Eucalyptus Globulus (Eucalyptus) Leaf Oil°, Mentha Piperita (Peppermint) Oil°, Limonene°°, Linalool°°. °Organic °°Naturally occurring in essential oils

0% ADDITIVES | Finally a worry-free after sun balm. This natural aftersun balm is not diluted with water and completely free from parabens, alcohol, preservatives, perfume and synthetic chemicals.

CERTIFICATION 認證
• All Suntribe products have performed a cosmetic safety assessment as detailed in the EU legislation (Regulation (EC) No 1223/2009)
• All organic ingredients are certified by either COSMOS Organic or EcoCert.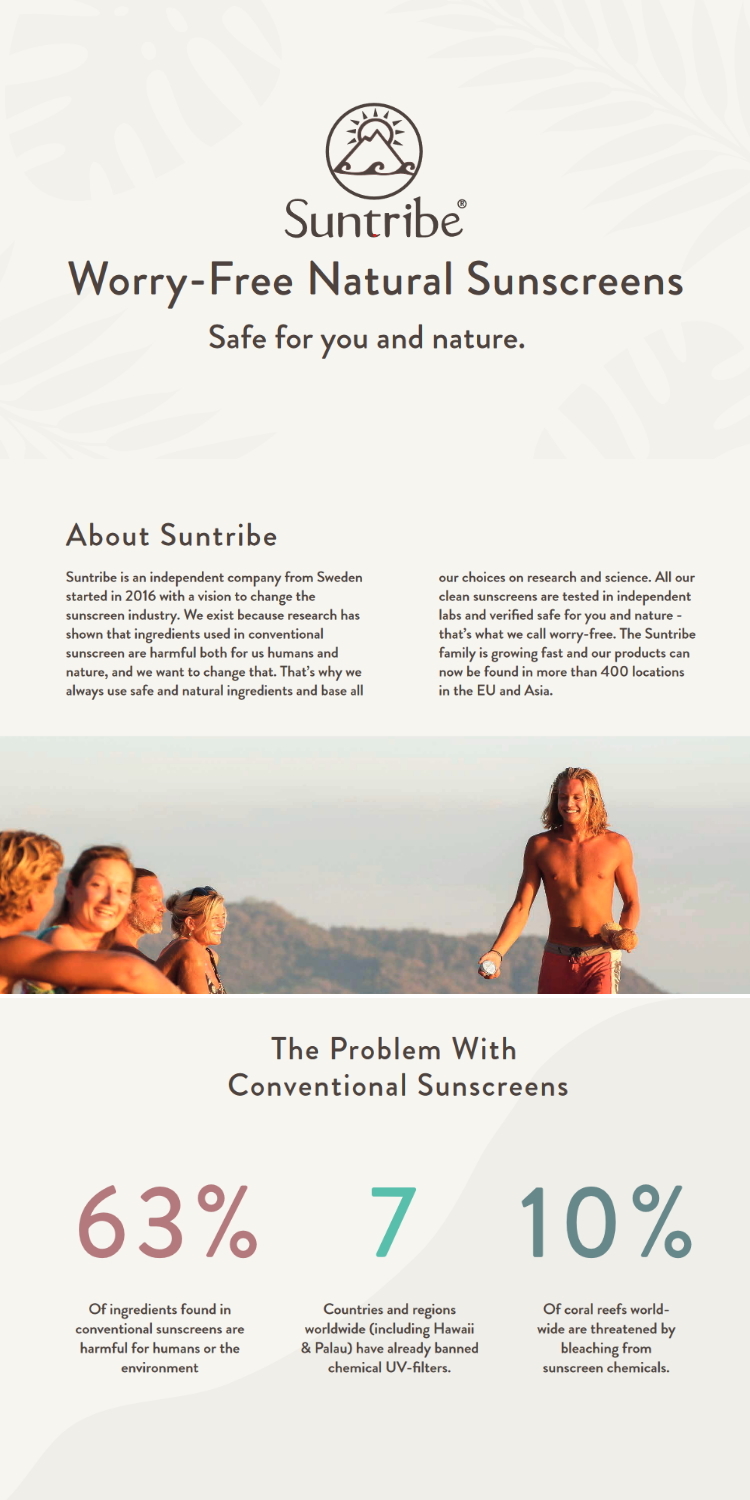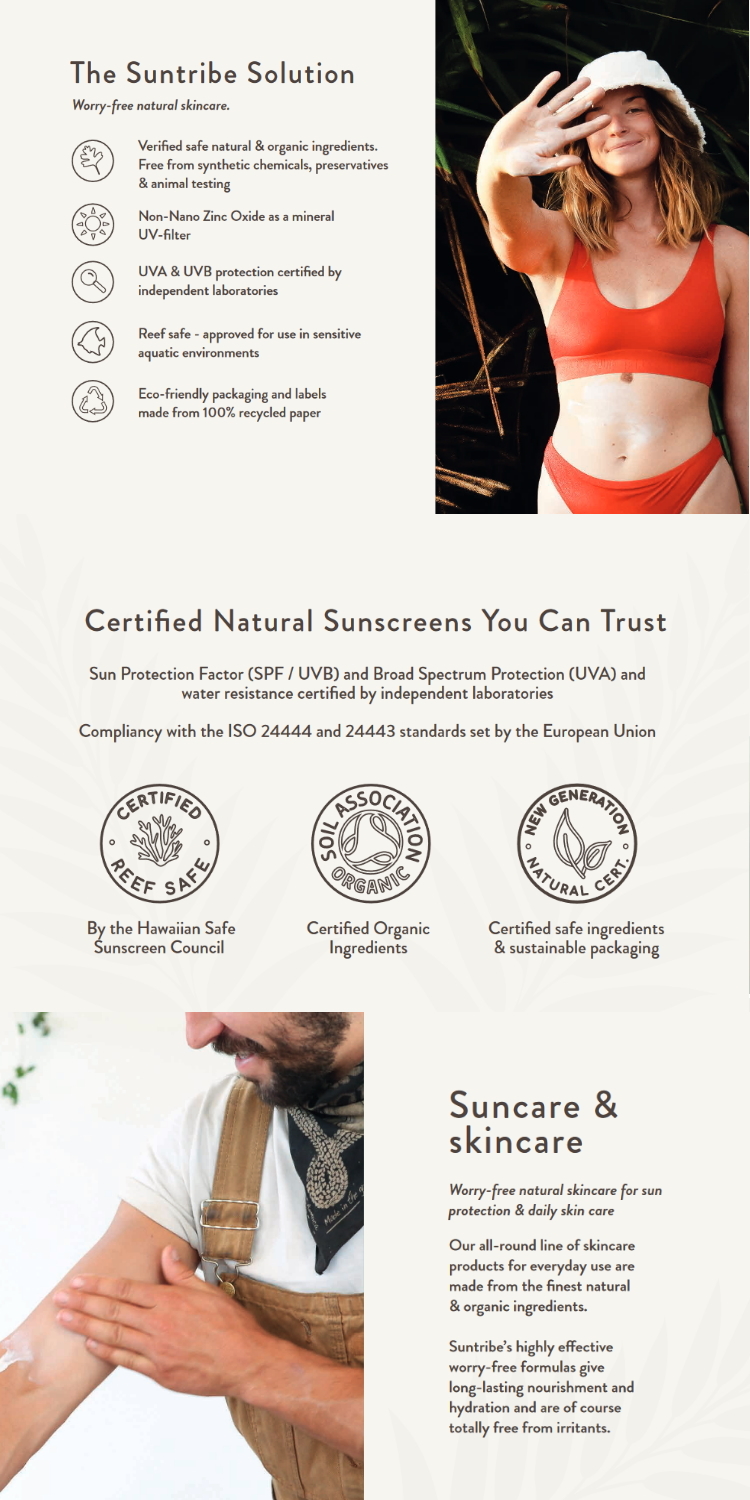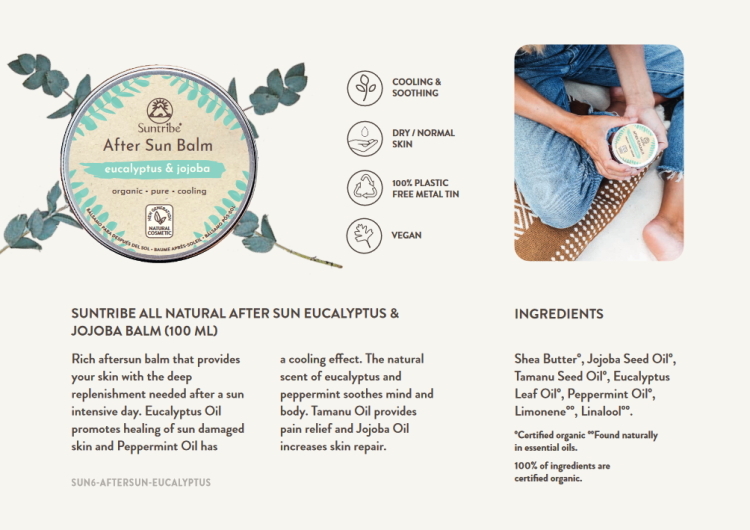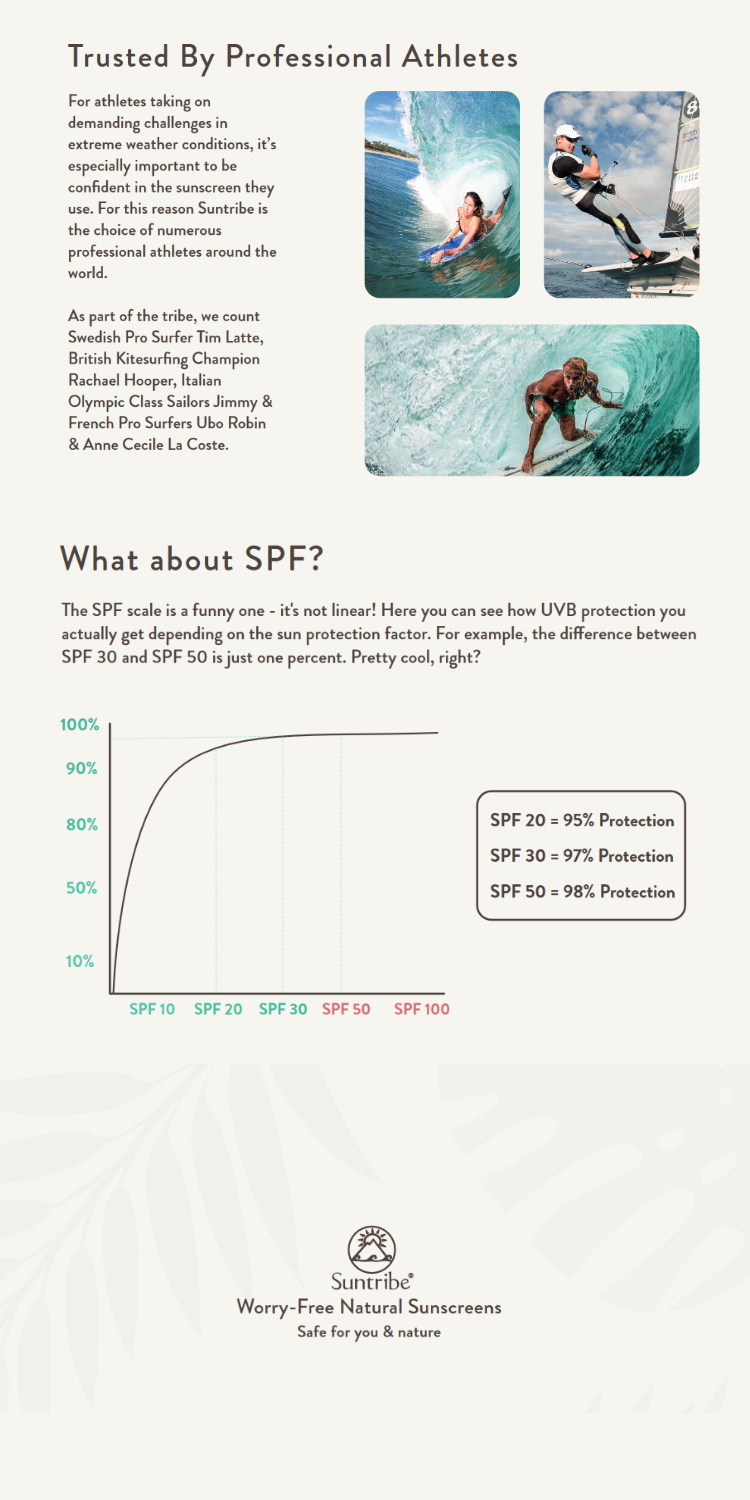 顧客評價
{{'product.product_review.no_review' | translate}}